"At Long Last! Discover the 1 Minute Hair Makeover which Can Help You Appear Ten Years Younger! – Keratin Hair Fibre"
Whilst you wait for your hair loss reversing products to take effect (either the Scientia Hair Laser Brush or Scientia Skin and Scalp Roller), you can now appear to have a significantly fuller head of hair in less than a minute. What's more, with Keratin Hair Fibre, no one will see that the hair is not your own – even from just a few inches away.
Regain your confidence and feel great about yourself with Keratin Hair Fibre!
Scientia Hair Fibers are a product of the latest cosmetic science. They are microscopic strands of totally natural organic keratin which sticks to your existing hair via static electricity to mix naturally and undetectably with your existing hair.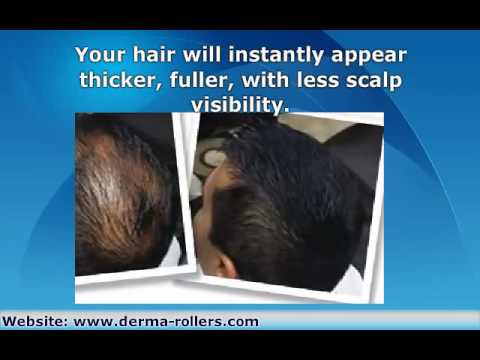 Your hair will automatically look to be more dense and thicker, with a lot less scalp visibility – helping you to look up to ten years younger. The most incredible part is, because these microscopic hair building fibers are completely natural organic keratin, the colour can't come out, run or stain.
Scientia hair fibers are resistant to wind, sweat, rain or a multitude of other usual daily activities. You simply sprinkle it over your head when you style your hair in the morning, use the specially formulated keratin fiber locking mist and the effect will last throughout the day.
Immediately you will observe a dramatic increase in density, coverage and volume of your receding and balding patches.
This innovative product can be used by both men and women and is available in seven different colours in order to mix undetectably with your existing hair colour.
So whether you suffer from very fine hair, male pattern baldness, premature hair loss, receding hairline or a bald spot, Scientia Hair Building Fibres offer an ideal cosmetic solution.
But don't simply take our word for it, check out what other users of our hair thickening fibers had to say:
"It was as if I had a hair transplant in 15 seconds! Simply Amazing"
Jonathan Baard – Toronto, ON
"I am downright ecstatic that Scientia Hair Building Fibers do exactly what you say. It was so easy to use; the results were immediate and amazing. My thinning hair was completely reversed before my eyes, and no one was able to tell the difference"
Victor Jones – Brampton, ON.
"I have been using Scientia Hair Fibers for the past few weeks, I can't believe how easy it is to use and how spectacular the results are. It takes me 30 seconds every morning, and the results last all day!"
Mike Oswald – Newmarket, ON
"Scientia transformed me into a new person, after just one application. I am so glad that I have this brilliant product to change my outlook on my life"
Mark Walters – Mississauga, ON
How should I use Keratin Hair Fibre?
To use Scientia Hair Replacement Fibre, simply hold the container over the spot you would like to treat and shake it gently. In mere seconds, several hundred color matched hair replacement fibres will securely bond to your existing hairs. Even the ultrafine villus hairs (which are nearly invisible usually) will end up with a covering of electrostatically charged hair replacement fibres, making them seem to be ordinary hair. Simply shake the container 4 to 5 inches above your hair.
You may then style your hair like you would normally. To lock the Thickening Fibres in place, you may use the Scientia hair locking mist we supply for use with the fibers. Your favourite kind of hairspray may also work, but our fiber locking mist has been specifically designed to achieve the most impressive results.
Scientia Thickening Fibre will attach themselves so immovably that they will remain in place day or night, even in the most powerful wind. Exercise will not be a problem either, because the fibers are resistant to sweat and rain. To remove Scientia Hair Replacement Fibres, just wash them away with your ordinary shampoo.
Are Scientia Replacement Fibers safe to use?
Of course! Our 100 percent organic keratin formula will never irritate the skin of your scalp or cause any other problems. Your natural hair is made of keratin protein, and the application of the Scientia Hair Fibers is undetectable to your skin.
Will hair thickener fibres affect my natural hair growth?
No! Keratin hair fibers can be used in harmony the use of any hair thickening product by concealing the afflicted area whilst your natural hair is actually being repaired over time. We would recommend that you use a Scientia Derma Roller or Scientia Hair Laser for the process of hair restoration and then Scientia Hair Fibers to look and feel great as you wait for your hair to improve.
There have been more than 2500 clinical studies carried out with beneficial results for low-level laser therapy, so the Scientia Hair Laser is without question the best match for Scientia Hair Fibers if you want immediate and lasting results.
Can the Scientia Hair Thickening Fibers get on my clothes?
Scientia Hair Building are very easy to use and is unlikely to fall onto your clothes. But even if they do, you can just dust them off with your hands and watch them disappear without any residue.
But what about if my hair gets wet, due to rain or snow?
The instant that the Scientia Hair Thickening Fibers have been applied, the electrostatically charged keratin fibres bond fast to your natural hair. Due to this fact, powerful wind, strong rainfall or even snow cannot make them leak, detach or become visible in any other way. Just shower the hair fibres out when you're ready.
What about exercise?
Absolutely. Sweat or vigorous activity will not make the Scientia Hair Fibers come out, stain, or be visible in the slightest.
What if I want to sleep with Scientia Hair Thickening Fibers still in my hair?
Yes. That won't be a problem at all. You may find a tiny amount of fibers on your pillow, but all you have to do is dust them off with your hands and they will disappear.
Can I run my hands through my hair?
Certainly! Scientia Hair Fibres disperse evenly throughout your hair, wherever you choose to have them. Once they have bonded with your hair and you have them fixed with the Scientia Locking Mist, running your hands through your hair will not cause any problems.
Are Scientia Hair Fibres Visible?
We have personally experienced the fact that you can look at a head treated with Scientia Hair Fibres even from a few inches away and still you won't be able to tell that it isn't natural, healthy hair. Even your stylist or barber won't notice it. One of the members of our team is a former West-End and Central London Hair Stylist, and she was astounded at how authentic the Hair Fiber product was. So much so in fact, that she couldn't tell that it wasn't real hair!
Be wary of inferior knock-offs which use cheaper materials rather than one hundred per cent organic keratin. Some hair thickening fibre kinds contain rayon, cotton, nylon or other non-keratin materials. Some of these have the potential to irritate your skin, or the colour can run. If you hope to have healthier, fuller-looking hair with realistic volume and no noticeable product, then always buy Scientia Hair Fibers.
Also watch out for 10g or 12.5g bottles – we provide Scientia Hair Fibers in 25g containers so that you can get more fibers for your money.
Is there a Scientia Hair Thickening Fibers money back guarantee?
Yes. The same as our Scientia Derma Rollers and Scientia Hair Laser, we give a results-based money back guarantee. The Scientia hair fibres will lessen the visibility of your balding patches, or your money back.
Could this product be unsuitable for anyone?
The Scientia Hair Fiber product is intended to thicken thinning hair. If your scalp is utterly smooth, i.e. it doesn't have some degree of thin villus hairs, then there will be no anchor for the Scientia Hair Thickening Fibers to bond to. Even if your hair is really thin, that is still fine. It is only utterly hairless patches which cannot have total unnoticeable coverage.
"I have a strain of Lupus that caused me to lose an awful lot of hair. Scientia Hair Fibers made me look like the same woman I was 10 years ago. I am the same woman again with much more confidence, thanks to you!"
Brittany Haley – Vancouver, BC
What colours of of hair fibers are available?
The following Scientia Hair Fiber colors are available: Black, Dark Brown, Medium Brown, Light Brown, Blonde, Auburn and Grey.
For obvious reasons, that depends upon how much coverage is needed for each person, but each 25 gram container is expected to last at least fifty days but for possibly as long as 65 days. We approximate 45 to 65 applications per 25 gram container of Scientia Hair Fibers depending on the degree of the hair loss.
Which countries do you deliver to?
We ship worldwide, and mail orders the same day if ordered on a weekday by 3 PM. UK hair fibres customers should get their the next day, European hair fibres customers should receive their items within 2 to 3 days, USA hair fibers customers (and all other countries) should get their goods within 5 days.
Do you offer an auto ship program?
Absolutely. Purchase your goods on a monthly auto ship program for significant discounts. If you prefer, you can, just purchase whenever you would like to replenish your stock.
"Since I started using Scientia Hair Fibers, I don't think about my hair loss, and my self-esteem and confidence has increased tenfold"
James Kan – Burlington, ON
Don't live with thinning patches any longer!
Simply click on the images below to buy Scientia Hair Loss Fibers right now. Free Worldwide Shipping is included. After which, you might like to visit our Scientia Hair Laser page or read about the hair restoration benefits of the Scientia Derma Roller.
Leave a Reply