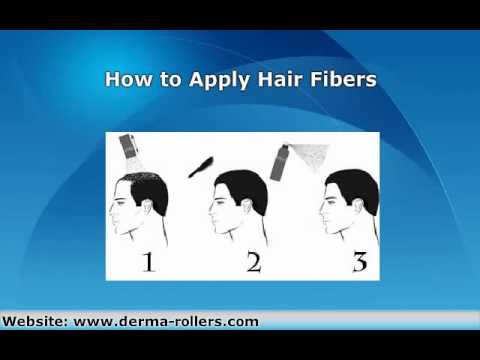 To apply Scientia Hair Fibers, simply hold the container four to five inches over the area you wish to treat, and shake it gently. In just seconds, thousands of colour matched hair fibres will secure themselves to your existing hair. Even the ultra fine villus hairs (which are almost invisible normally) will attract a covering of electrostatically charged hair fibres, making them appear to be normal hair.
You can then style your hair in the same way you would ordinarily. To secure the hair fibers in place, simply use  the Scientia hair locking spray we provide for use with the fibers.  Your favourite brand of hairspray may also work, but our fiber locking spray is specially formulated to achieve the most natural results.
Scientia Hair Fibers will bond so securely that they will stay in place day or night, even in the strongest wind. Sports are no problem either, as the fibres are resistant to sweat or rain. To remove the Scientia Hair Fibers, simply wash out with any ordinary shampoo.
Disclaimer
Use entirely at your own risk. To the maximum extent permitted by law, we are not responsible for negative or damaging results obtained by proper or improper use of this product. This product is designed only to be used on the scalp and is a cosmetic rather than medical product.
Please do not use this product if you have open cuts, wounds, sun-burnt skin, or any other abrasions or injuries on your scalp.
Further Information:
To buy online, visit our online ordering page. Alternatively visit our Hair Fibers frequently asked questions page for answers to the most common questions. For contact information, visit our contact page.
Leave a Reply